Each year Medicare sets how much you pay for its premiums, deductibles, and co-payments for Part A & Part B. The table below show the rates for Part B in 2009:
The reason you purchase a Medicare Supplement is to fill or cover the Gaps and co-insurance left by Medicare Parts A & B. The table below shows the Medicare Part B premiums and is based on your last years tax return.
Part A Premiums:
Most people do not pay for Part A, because they have paid Medicare taxes for 40 or more quarters while working. Those with 30 to 39 quarters of covered employment can buy into Part A coverage. If you have 30-39 quarters paid into the system you will pay $244 a month in 2009. If you have less than 30 quarters of covered employment you will pay $443 for Part A in 2009.
Part B Premiums
Most people on Medicare will pay $96.40 a month for Part B in 2009. The Part B premiums did not change from the 2008 rates. Higher-income people will pay even more. The Part B premium will most often be deducted from your Social Security check. However, if you are not getting Social Security Benefits yet because you are not eligible, Medicare will bill you quarterly until you start receiving benefits.
Tax Return Income (Individual)
Joint Tax Return Income (Married Couples)

2009

Monthly Part B Premium
Up to $85,000
Up to $170,000
$96.40
$85,001 to $107,000
$170,001 to $214,000
$134.90
$107,001 to $160,000
$214,001 to $320,000
$192.70
$160,001 to $213,000
$320,001 to $426,000
$250.50
Over $ 213,000
Over $426,000
$308.30
If you're on Medicare before Jan. 1, 2009, you'll be told at the end of 2008 about the 2009 rates. You'll also find out about any related changes in your Social Security benefits. If you enroll after then and must pay the higher premium, you'll hear shortly after enrolling.
Deductibles and Co-payments
Part A Deductible: The 2009 Part A deductible is $1,068 per illness, up $44 from 2008.
Part B Deductible: The 2009 Part B deductible is $135, the same as it was in 2008.
Part A Co-payments: The Part A deductible covers the first 60 days of a Medicare-covered hospital stay. Then you pay $267 a day for days 61 through 90. After the 90th day, your co-pay for lifetime reserve days is $534 a day.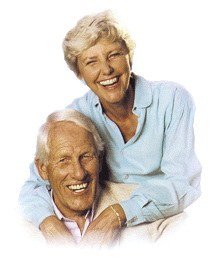 Call to speak to an agent 1-800-728-9609
Click here to start your free quote.
As an independent agent we have the lowest rates.
We still like to provide good old fashioned customer service.
---
All of these plans are the same with every insurance company offering the plan.

Not all plans are offered by every insurance company...

The one you select can make a difference on how much your "out of pocket expenses" will be...

We help you make a wise choice...

Most of the time we recommend Medicare Supplement plan F or Medicare Supplement plan G highlighted in the chart below in yellow. But the choice is entirely up to you...

There are 12 standardized Medicare Supplement plans "A" through "L".

The benefits of each plan are different, with the exception that all plans are required to cover the "Basic Benefits" which are identified below. Medicare standardized the plans in 1990 to limit the consumer's confusion when comparing coverage offered by different insurance companies. With standardization, the consumer can easily compare the benefits and the cost between the different insurance companies offering the plans. The words "Medicare supplement" and MediGap plans are interchangeable and mean exactly the same thing. The descriptions of benefits of each of these plans are in the table below.

How to read the chart: If a check mark appears in the column, this means that the MediGap policy covers that benefit up to 100% of the Medicare-approved amount. If a column lists a percentage, this means the MediGap policy covers that benefit at that percentage rate of the Medicare-approved amount. If no percentage appears or if the column is blank, this means the MediGap policy doesn't cover that benefit. Note: The coverage of coinsurance only begins after you have paid the deductible on plans K & L. This does not apply to the Medicare Part B excess charges in Plan G.

Medicare Part A Coinsurance and MediGap Coverage for Hospital Benefits

Medicare Part B Coinsurance or Co-payment

50%

75%

Blood (First Three Pints)

50%

75%

Hospice Care Coinsurance or Co-payment

50%

75%

Skilled Nursing Coinsurance

50%

75%

Medicare Part A Deductible

Medicare Part B Deductible

Medicare Part B Excess Charges

80%

Foreign Travel Emergency (Up to Plan Limits)

At-Home Recovery (Up to Plan Limits)

Preventive Care Coinsurance (Included in the Part B Coinsurance)

Preventive Care not Covered by Medicare (up to $120)

2009 out-of-pocket limit:

$4,620**
$2,310**
*Medicare Supplement Plans F and J also have a high deductible option. We don't recommend the high deductible plans. If you select the high deductible plans you have to pay the first $2,000 (deductible in 2009) in MediGap-covered costs before the MediGap policy pays anything. You must also pay a separate deductible for foreign travel emergency ($250 per year).

**After you meet your out-of-pocket yearly limit and your $135 yearly Part B deductible, the plan pays 100% of covered services for the rest of the calendar year.
Basic Benefits
• Coinsurance for days 61-90 ($267 per day) and days 91-150 ($534 per day) in hospital
• Payment in full for 365 additional hospital days
• 20% coinsurance for physician and other Medicare Part B services


Medicare Part A Hospital Deductible
• The 2009 deductible is $1068


Skilled Nursing Facility (SNF) Coinsurance
• $133.50 a day for days 21-100 in a Skilled Nursing Facility in 2009

Medicare Part B Yearly Deductible
• The 2009 deductible is $135

Medicare Part B Excess Charges
• Difference between doctor's charge and Medicare's approved amount
• Up to 15% above the Medicare approved charge which is the doctor's maximum charge

Foreign Travel Emergency
• Pays 80% of the cost of emergency care during the first two months of each trip after you pay a $250 deductible
• Lifetime maximum of $50,000

At-Home Recovery
• While receiving skilled home care, extra home health aide visits
• Home health aides up to 40 visits after skilled care is no longer needed
• Maximum of $40 per visit to 40 visits per year, for total of $1,600 per year

Preventive Care
• Up to $120 per year for preventive services ordered by doctor

---